About the Program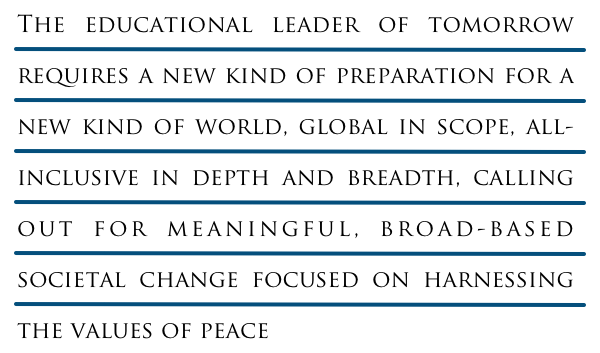 The program takes an ecological approach to education, one that, as Lawrence Cremin wrote over thirty years ago, "views educational institutions and configurations in relation to one another and to the larger society that sustains them and is in turn affected by them." As such, the MA program, like its home institution, Soka University of America, is global in scope introducing students to the comparative and international dimensions of education.
Students study and conduct research into the historical roots of educational policies and problems as well as on the relationship between educational philosophies and practices and contemporary social, political, economic and cultural developments. Related areas of study include comparative and international education, multicultural education, educational psychology, gender and education, school administration policy and practice, and educational law.
Courses include a fieldwork component, including a summer-long research internship that provides students with hands-on opportunities to shadow administrators, analyze organizational dynamics, and evaluate curriculum.  Under the supervision of a principal professor, students integrate their fieldwork and educational research to produce a master's thesis for graduation.
The program is designed to prepare students for advanced degrees (e.g., PhD or EdD) and for leadership roles in public and private schooling, governmental and non-governmental organizations, or as an entrepreneur, particularly in the growing area of educational media and publishing. Graduates are in excellent positions to initiate leadership in K-12 classroom settings, pursue supplementary state credentialing requirements for managerial positions as principals and vice principals or as administrators at the district-level, and work in public policy institutions around the world. 
 Please note:
This program is not a credential program.  It does not qualify students for the State of California Teaching Credential or for the State of California Administrative Services Credential. Those students seeking teacher and/or administrative credentialing in California or elsewhere may consult the Program Director.
Pedagogical Methods
Regular semester-long courses – lecture, group work, discussion, library research, etc. These courses are taught in a more-or-less traditional graduate seminar format in which students read and discuss both common and individual readings, pursue a research project under the direction of a professor/mentor, and provide regular progress-reports to the class as a whole for commentary and input.
EDU 501 Educational Leadership and Societal Change: A Comparative Perspective and EDU 502 Ethnographies of School Administration are both taught in a three-week block period. Students take these courses exclusively; they meet for a required three hours per day in what is essentially a workshop/colloquium consisting of lecture, student presentation, writing-intensive group discussion, and case study development. EDU 512 Leadership and Societal Change: Invited Speakers Series also takes place in the block and is designed to expose students to former and current senior teachers, administrators, research scientists, and other individuals with a proven record of leadership in the reform of schools and society. Students work with a master change agent to develop their own reform models, testing these models against real problems and controversies in the world of education, especially as they affect the larger society.
EDU 520 MA Thesis – independent research combined with library and field research